Project CHARTS at Balttour 2014 exhibition
Created/updated 07.04.2014 15:57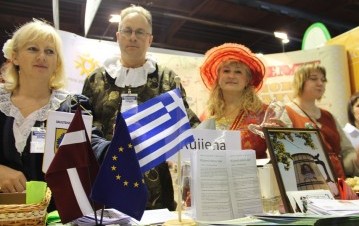 Vidzeme Tourism Association (VTA) presented CHARTS at the 21th International Travel Trade Fair "Balttour 2014" at Kipsala International Exhibition Centre. VTA introduced visitors and stakeholders with results and outputs of project and CHARTS Award contest for destinations in Europe.
The three-day event was filled with joy of discovering new routes in Latvia and worldwide and enticing prices. The best chefs, craftsmen, grown-up and kid dancers, singers and musicians made for a very special atmosphere.

Vidzeme called to draw strength from ancestral experiences and beautiful nature – the ancient places of worship as the common identity of the Baltic Sea coastline, routes to the places of worship in Vidzeme Upland, northern part of Vidzeme, Estonia and Sweden, and a website with information about more than 400 ancient natural sanctuaries. Intriguing offers were presented by one of the project partner - Vecpiebalga municipality and the county's latest cycling guide that encouraged travelling in Vidzeme.

The fair was attended by 27,100 people, which is 15% more than last year, and five thousand of them were tourism professionals and invited guests. The whole exhibition presented 450 stands and 700 travel businesses from 38 countries.
More photos from Balttour 2014 exhibition available here!
Information prepared by:
Ieva Treija,
project CHARTS PR specialist
charts.mcu.ieva@gmail.com

CHARTS project is co-financed by the European Regional Development Fund and made possible by the INTERREG IVC programme.
This project is funded by the EU's European Regional Development fund through the INTERREG IVC programme. The publication/website reflects the author's views and the Managing Authority can not be held liable for the information published by the project partners.