CHARTS Workshop in Cyprus held on Place Marketing
Created/updated 13.01.2014 09:24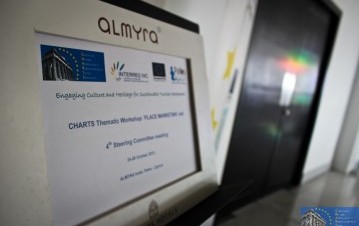 Thematic Workshop on place marketing and International Conference "Cultural Tourism Experience in Economy" was held in Pafos on 24 – 26 October hosted by Paphos Regional Board of Tourism in collaboration with European Cultural Tourism Network (ECTN).
This three day event was attended by Vidzemes Tourism Association representatives, together with Mayor of Ergli Municipality Council Mr. Guntars Velcis, Mayor of Vecpiebalga Municipality Council Ms. Ella Frivalde-Andersone and Vice-mayor of Rauna Municipality Ms. Linda Zudina.
Workshop participants exchanged their experience on innovative marketing strategies, destination brand synergy with culture and cultural heritage, based on the uniqueness of local and regional identity, as well as business opportunities in destinations.
Mr. Manos Vougioukas, Project Coordinator, introduced participants with project, achievements so far and topic of the workshop. Mr. Andreas Masouras, Professor at the University of Neapolis, introduced cultural tourism and bussiness opportunities in destinations related to marketing. Mr. Dimitris Vassiliadis, representative of Greek National Tourism Organization, demonstrated experience in Greece and how to organise Greece as a brand through culture and heritage in order to open new market opportunities. Mr. Nasos Hadjigeorgiou, Director of PRBT, presented strategy of Pafos region becoming a quality tourism destination where tourists can gain experience, considering region's natural environment and cultural heritage. Mr. Nicolas Vogiazidis, Professor at the University of Thessalia, presented results of INTERREG IIIC project CultMark. He emphasized, that cultural heritage is an important factor to create a local identity with elements that act as a branding device for destinations. Local identity promotion by cultural heritage through inter-regional cooperation gives an opportunity to less known municipalities and regions to carry out pilot projects.
The next day was dedicated to International Conference "Cultural Tourism in the Experience Economy" in order to support European Commission's public consultation with summarised views of interested parties/stakeholders on interaction between culture, recreation, sports, tourism, eco-industries and various forms of entertainment. Also, how to promote business and economic development through cultural and creative industries and creating new jobs.
Mr. G.Velcis emphasized that experience, expertise and willingness to share experiences and ideas are the basis to define "experience economy" in cultural tourism. He stressed that promoting entrepreneurship and economic growth in the cities, regions and countries will keep Europe as Tourism Destination No.1 in the World. He wished participants fruitful discussions, interesting findings and observation for shared future.
Ms. Conny Boersma, Coordinator of ECTN, gave their insight on experience economy beyond the creative explorer and Mr. Gerhard van Keken gave his opinion on new horizons for cultural tourism in experience economy.
Ms. Margarida Azevedo, candidate Doctor, demonstrated social impact on cultural experience. Mr. Pavlos Arvanitis, candidate Doctor from University of the Aegean, demonstrated cultural tourism synergies with experience economy, considering European Union Strategy for 2020.
Ms. Nina Sekund, authorized representative of Vastra Gotaland Region responsible for movies, demonstrated links between movies and tourism, that make destination image more effective and help to boost economic development in region. Ms. Ieva Treija, representative of project CLEAR, demonstrated how Awards ('European Heritage Label', 'European Cultural Route') create additional value to culture locally and on European level and how social media can encourage visitor's interest, thus contributing to the recognition of the destination, economic growth and job creation.
M.Vougioukas presented Transnational Cooperation in Cultural Tourism Development and Promotion: INTERREG IIIB project CHIRON Project legacy and prospects for the experience economy.
Conference continued with highlights of strategic investments and the role of place marketing in order to benefit local economy with citizen's participation by representatives of Sibiu 2007, Pafos 2017 and candidate Burgas for 2019.
Event was concluded with discussions about cultural tourism role in experience economy, funding options in 2014 – 2020 and study visits to UNESCO World Heritage sites in Pafos.

Information prepared by
Ieva Treija,
project CHARTS PR specialist
charts.mcu.ieva@gmail.com

CHARTS project is co-financed by the European Regional Development Fund and made possible by the INTERREG IVC programme. This project is funded by the EU's European Regional Development fund through the INTERREG IVC programme. The publication/website reflects the author's views and the Managing Authority can not be held liable for the information published by the project partners.