CHARTS seminar held in South Pelion, Greece
17.06.2013 10:23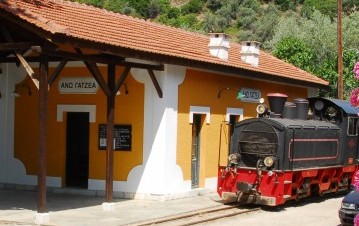 Three thematic workshops on good practices related to 'local products and gastronomy', 'traditional skills and trades', as well as 'railway heritage preservation and promotion', with five study visits, took place on 7 – 10 June 2013 in South Pelion Municipality, Greece, organised in the frame of the INTERREG IVC project CHARTS.
It was the first time when Lead Partner of CHARTS project Municipality of South Pelion organised and hosted thematic workshops, as extraordinary events for CHARTS project implementation, in order to exchange experience on these topics of good practices in cultural tourism particularly for tourism destinations among project partners. These topics were in addition to those originally planned.
The thematic workshops were held in Milies, the cultural capital of South Pelion, and started with welcome by Kostas Papamarkakis - Chairman of Municipal Council of South Pelion, Athanassios Fleris - Deputy Mayor of South Pelion, Kostas Chalevas - President of the European Cultural Tourism Network (ECTN) and Regional Councillor of Thessalia Region Authority. The Project Coordinator Manos Vougioukas introduced to participants the CHARTS project, objectives, approach, actions and achievements, results todate and next events in future till project completion in 2014.
The first workshop day on Friday 7 June was dedicated to 'local products and gastronomy' as intangible heritage. Penelope Nompilaki, representative of Greek National Tourism Organization (GNTO) based in Athens introduced participants with Greek Cuisine and special quality label for Greek Cuisine which have been establish by GNTO in collaboration with the federation of the catering business. She outlined that the goal of this initiative was the reinforcement of the cultural resources in Greece.
Afterwards, Athina Argyropolou presented 'The Olive and Olive Oil Museum' at Ano Gatzea in Mount Pelion established and operated by the NGO "Pelion Oros" which organizes museum-based educational programs for schools and students in order to make closer contact with Pelion agricultural-traditional culture around the cultivation and use of olives as a local product heritage. Olives and olive oil has important contribution to health and life, since ancient times.
Enni Levendi, journalist and author, presented her book "the cuisine of centaurs" with 80 traditional Pelion recipes what was written with a personal wish to discover homeland through the variety of flavours and preserve traditional Pelion cuisine. Promoting local cuisine and gastronomy as intangible heritage is a good practice within CHARTS project.
On behalf of project partner IBERTUR/University of Barcelona the Catalan Culinary heritage safeguarding project was presented as a method how to include regional Cuisine in the List of UNESCO Intangible Heritage.
Dimitris Vassiliadis and Areti Prinou, representatives of GNTO presented 'Wine routes' as wine tourism and a special form of agrotourism and the 'routes of Olive tree' as an instrument for promotion of local economies. The olive tree heritage was promoted through cultural activities, support of thematic tourism in the olive oil producing areas and sensitization of consumers and young people on the nutritional value of olive tree products and the advantages of the Mediterranean diet across Europe.
The workshop was closed by Mr Apostolos Papatolias - General Secretary of Regional Authorities Union of Greece, who stressed that regional authorities look out for results of cooperation projects such as CHARTS. In particular, the project events in South Pelion can contribute to the development of a common cultural identity based on day to day activities, such as local products and gastronomy, traditional skills and trades as well as exploiting unique features of regions such as railway heritage for cultural tourism. Furthermore, the way culture and heritage can contribute to sustainable regional development through cultural tourism is very important for the creation of a new development culture that may help particularly in getting out from the current deep economic crisis. The results of the CHARTS project events will be very useful to the Regional Authorities Union of Greece and will contribute to the promotion of European regions in terms of cultural tourism as a lever of sustainable development. The development of regional airports with direct flights is also important for the promotion of cultural tourism.

The next day, Saturday 8 June, was dedicated to study visits in Koropi on traditional skills and trades with display of horse shoeing, saddle making and local gastronomy with display of Pelion cuisine and tasting, traditional dish recipes prepared by two Women Cooperatives of Trikeri and Vizitsa villages in South Pelion Municipality. Participants had the opportunity to experience horse riding organised by the 'Horse & Nature Society of Milies', which was also opened to local children to familiarise them with traditional skills and trades around horse keeping and riding. The day's events were concluded with traditional music and dancing by folk groups.
In second day of study visits on Sunday 9 June participants had a study trip by traditional boat to traffic free Old Trikeri island, where they were welcomed by the Mayor of South Pelion Mr Nicolaos Fortounas who gave a guided tour to the island's heritage assets. Participants visited the Monastery of the Virgin Mary that has been built by the local residents and attracts pilgrimage tourism. Later on, they tasted local cuisine of Old Trikeri island based on freshly caught seafood.
The last day Monday 10 June was dedicated to thematic Workshops on 'Traditional skills and Trades for Cultural Tourism Development' and 'Railway Heritage Preservation and Promotion for cultural and special interest tourism'. It started with Pelion Heritage Railway study trip (Ano Lechonia – Milies route) with stop at Ano Gatzea station for technical visit to "Olive and Oil Museum". The Pelion Heritage Railway celebrates this year its 110 years anniversary of the completion of the narrow gauge line to Milies, the same as the 'Banitis' Gulbene-Aluksne Railway on Vidzeme, Latvia, where Vidzeme Tourism Association is a partner in the CHARTS project.
In the afternoon, Conny Boersma, ECTN expert from Zeeland province, the Netherlands, presented Maritime Heritage, preserving heritage, motives to develop traditional maritime skills. She outlined solutions to sustain the Maritime heritage. Astra Binde, representative of Vidzeme Tourism Association, Latvia presented traditional skills and crafts in Ape Municipality. Discussion followed between the partners from Vastra Gotaland Region – Sweden, Mallorca - Spain and Wales – UK on exchange and potential transfer of good practices.
The rest of the last day was devoted to on 'Railway Heritage Preservation and Promotion for Cultural & Special Interest Tourism'. Yiannis Antoniadis, Chief Engineer of Helenic Railways Organization OSE presented the Volos-Pelion Railway Restoration Works on steam locomotives and wagons, tracks, bridges and buildings. Andris Biedrins, representative of Industrial Heritage Trust in Latvia introduced participant with the only operational narrow gauge railway in the Baltics "Gulbene – Aluksne Railway - Banitis" which is both local transport and tourist's attraction with many activities for tourists. Kostas Petrakis, expert of CHARTS project MCU, Greece, presented Greek Heritage Railway potential for tourism with experience and case studies in Greece.
In total, six project partners were represented: Vidzeme Tourism Association - Latvia, Consell de Mallorca - Spain, Welsh Government CADW - UK, Vastra Gotaland Region - Sweden, European Cultural Tourism Network (ECTN) - Belgium, Greek National Tourism Organization (GNTO) together with Municipality of South Pelion from Greece.
The five Study Visits were: Vizitsa village (local architecture and women's cooperative), Koropi (traditional skills for horse riding and local cuisine displays), Old Trikeri island (religious tourism and local gastronomy), Pelion Heritage Railway (110 years anniversary of Ano Lechonia-Milies line) and Olive & Oil Museum at Ano Gatzea.
The partners renewed their appointment for the next project event to be held in Vidzeme, Latvia, on good practice topics of 'Visitor Information' and 'Cycling for Tourists' in September 2013.
---
Information prepared by
Ieva Treija,
project CHARTS PR specialist
charts.mcu.ieva@gmail.com

CHARTS project is co-financed by the European Regional Development Fund and made possible by the INTERREG IVC programme.
This project is funded by the EU's European Regional Development fund through the INTERREG IVC programme. The publication/website reflects the author's views and the Managing Authority can not be held liable for the information published by the project partners.