Annas Hotel admitted to the international association Best Design Hotels
19.04.2013 15:31
The Latvian countryside hotel "Annas Hotel" has been recognized by hotel design experts and admitted to the international association of design hotels - "Best Design Hotels". Thus, "Annas Hotel" is the first and to date the only design hotel in the Baltics included in the "Best Design Hotels" list of the world's best design hotels made by the "Hotel Alliance Group".
To be invited to the association of design hotels and to become a member, it is necessary to show outstanding performance in hospitality, comply with several design criteria as well as receive positive feedback and evaluation from experts. The experts usually arrive and evaluate the design hotels without prior notice, thus providing an objective system of evaluation.
"We are very satisfied and happy about the inclusion of "Annas Hotel" in the association of world's best design hotels. It is a great honor to be a member of our association, because it is only possible to join it by special invitation. "Annas Hotel" enchanted us with its unique design in the historical building of a manor house surrounded by a picturesque landscape. In "Annas Hotel", ultrafashionable design is unusually integrated with authentic antiquities and furniture in a very harmonic way. Besides, it boasts with a surprisingly extensive offer of SPA and active recreation possibilities," said Benjamin Lamy, the head of the quality department of the association "Best Design Hotels".
On the other hand, the manager of "Annas Hotel" Kristaps Strauss said that being among the best world's design hotels in cities like New York, London, Rome, Barcelona, Moscow, Paris, Berlin and others, gives "Annas Hotel" wonderful opportunities to compete internationally, attracting design and high-quality recreation fans from the entire world.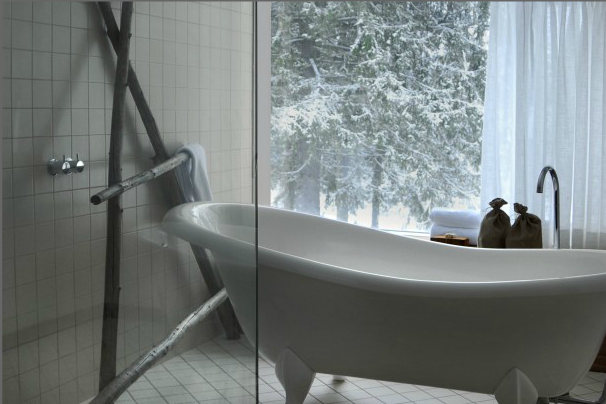 Picture republished from AnnasHotel.com
Currently, the association "Best Design Hotels" consists of 20 hotels from 17 countries and 19 cities. The "Hotel Alliance Group" unites the highest class hotels from the entire world in different categories – best design hotels, best luxury hotels, best resorts, best conference hotels, best eco hotels etc.
"Annas Hotel" design hotel is located in Zaube County's village of Annas, about an hours drive from Riga. Combining nature with comfort, and offering the ancient traditions in a modern way makes it a high-quality recreational, establishment. "Annas Hotel" is situated in the territory of the ancient Anna's Manor House and welcomed its first guests in the autumn of 2009. At "Annas Hotel", guests are welcomed in 10 one-floor and two-floor hotel rooms with different interiors, an ancient park of a manor house, a centenarian lime-tree avenue and a wonderful lake view. Here you can enjoy a meal in the restaurant "Kannas", relax in the SPA complex "Vannas", celebrate a wedding and other events, as well as simply enjoy a stay in a stunning corner of Latvia that has retained its natural beauty.
Article republished from State Tourism Development Agency